Last month I flew to Europe & rented a brand new car (Ford Mondeo) for 31 days and just used my Credit Card for coverage as well as the standard insurance coverage provided by the rental company.
What I didn't expect is the fact that I got into a hail storm in Austria (see pic below), which was so bad, that the car was covered with dents all over the place and I now will probably get invoiced $1k, which is my deductible for the car.
My CC (Mastercard) won't cover just because of the fact that I rented the car longer than 30 days (who would have guessed that?)
You probably start laughing a bit now. But let's calculate: With additional full coverage with no deductible the insurance would have added about $20 extra per day, which would be $620 for the full month.Overall savings would have been ~$500. So yeah..makes me feel better, but still bad.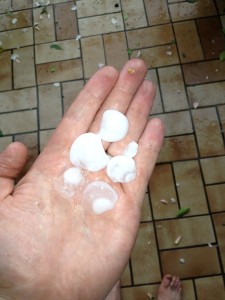 I was wondering now what I should do for my next business trip to Mexico. Should I get a Mexican insurance on top? I think so. The reasoning is just clear: 1. Insurance to go south of the border is just much cheaper than insurance in Europe 2. I won't be travelling for 30 days plus. 3. The chance of the hail storm is unlikely, but cars getting stolen is just too common in Mexico. 4. Deductibles are very low. 5. My Iphone is included in some insurances, so the extra coverage should help.
Would you insure your car and phone when traveling to Mexico? Would you insure only one of them?