So we've been testing a few Forex apps for the Iphone lately and wanted to give a bit of an overview of what you could use for your trading needs, news or forex analysis.
Forextrader from Forex.com

What we liked about Forex.com's Forextrader is the fact that you can setup a practice account for learning how forex trading works.
The app has a nice dashboard that summarizes Balance, Positions and orders. The Trade part of the app shows you real-time stats on the minute, which is something every app offers, but we like the way it is displayed.
For the Tools part the app includes Market updates, recent news and forex insider tips. The Economic calendar shows real-time country stats such as unemployment rate or PMI Manucaturing index.
The report section of Forextrader is also quite impressive: You always can pull recent activity, Realized P&L, Rollover history and obviously order history.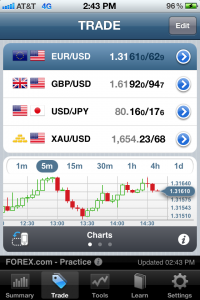 Overall a great app for beginners and professionals, who like to be on the pulse of Forex trading.
Meta Trader Version 4

First thing we didn't like about Metatraader is the fact that they ask you for your phone number. We'll drop our CC, but I don't think that for a practice account you should be required to give away your cell number.
Once logged in we were also kind of confused with the setup of Meta trader. The dashboard was a bit confusing, but after reading on their website, it was clear to us how to use it. Trix and Trema indicators are a nice feature and the charts look good once setup right.
Overall the app however is for professionals and not beginners, which we'd like to recommend it only to people, who have trading experience.
FXCM Mobile Trader
FXCM is clearly one of the global market leaders in Forex trading. There app is intuitive and beloved by a lot of people.
The app also offers market news and allows to deposit fund and to place market order. Their charts are also up to date and in real-time. Micro clients will be charged $0.10 per micro lot per trade.
Easy Forex app
The Easy forex Iphone apps shows live rates of over 100 currencies including oil and gold.
Besides that standard features, easy-forex has an inside viewer that let's you see which currencies are most popularly traded. On top the app gives you a weekly outlook, so you can prepare yourself before putting new orders in.
Forex on the Go's best features is the ability to use it without signing up or creating an account. Once downloaded the app works and you can instantly use it.
The Lite app also includes all Forex features including a Fibonacci Retracement calcualator and Pivot point calculator
To summarize our impression from all the apps:
All apps seem to cover the basics and can help you understand your Forex needs. Some apps need more time to get used to, but they all do a well job to get your needs covered.